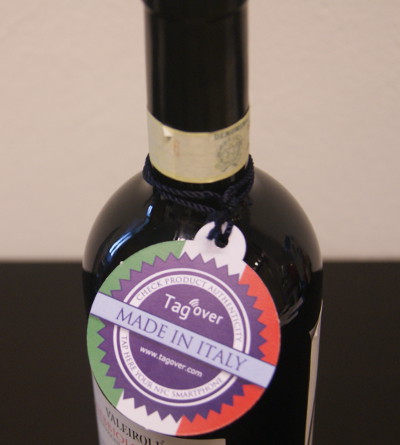 Verification of the authenticity and more information about wine, through a smart label.
How to ensure the bottle of wine is really DOCG? Simple: with an anti-counterfeiting label. It is now possible, thanks to NFC technology, to accomplish counterfeit-proof labels, at a cost that will not affect the price of the bottle.
The special Tag Over Labels, in fact, contain a small integrated chip with a unique code, not falsifiable. By applying one of those in a bottle label, you can ensure wine authenticity, safely and economically. 
But that's not all. The microchip is also encodable and can contain additional information about wine: 
information on grapes, vineyard, gradation of the wine, age of the collection and the characteristics of the wine (color, smell, taste, etc.). 
certifications of wine 
service temperature 
recommended combinations: with which foods you may want to savor it, and under what wines to approach it 
You can then add information about the winery, its geographical area and the other types of wine produced by it. 
Finally, one of the most important advantages: you can include a link to directly buy more bottles of the same wine or other wines of the same winery.